Dansk Version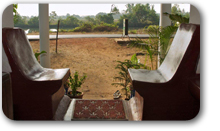 "Good Health" in Ayurveda means you do not feel your body, everything is perfect, and your body just works fine.
We at Ayurclinic Goa provide you with the most accurate and thorough diagnosis together with the professional treatment by a caring staff and with the proper ayurvedic oils. The treatment we offer is based on a sound examination of each patient, and each patient is treated for his individual needs. Our services will make you feel fresh, energetic, healthy and fit. A visit to our clinic will give you the most sophisticated and rewarding experience of ayurvedic treatment in Goa. Ayurclinic Goa has also been listed on
Holidays Please
and is listed in their
Goa Holidays Guide
.
For any information about Ayurveda, Doshas, Panchakarma or testimonials please sign up on our forum, where you will meet and talk to Ayurveda lovers from all over the world. It is also possible to address questions to Dr. Rohit and his colleagues in our
forum
.